Les pilotes belges aux 24 Heures du Mans
<Jacky Ickx, Monsieur Le Mans, et l'élégant Olivier Gendebien, cumulent 10 victoires aux « 24 Heures du Mans ».
Ils sont tous les deux membres du prestigieux « Hall of Fame de la course ».
Ils font partie des 8 pilotes à avoir gagné au moins 4 fois la plus célèbre course d'endurance au monde.
C'est une très belle illustration de la passion, de l'abnégation, du talent et de la réussite des pilotes belges au Mans.
Au volant des voitures jaunes, couleurs nationales obligent, mais aussi recrutés par les plus grands constructeurs, les « Belges » ont contribué à écrire parmi les plus belles pages du grand roman « 24 Heures du Mans ».
C'est justement à travers ce bel ouvrage, écrit par un passionné Lucien Beckers, inspiré par le parcours de sa sœur Christine, quatre participations aux 24 Heures et lauréate de la Coupe des Dames, que vous pourrez découvrir ou redécouvrir les portraits de tous ces talentueux pilotes.
Souhaitons maintenant que la jeune génération, élevée à l'ombre du légendaire circuit de Spa- Francorchamps, par ses prouesses, incite à l'écriture d'un deuxième tome de l'aventure des « Belges au Mans ».
Pierre FILLON Président de l'Automobile Club de l'Ouest
Préfaces de/Voorwoord van Thierry Boutsen & Pierre Fillon (président ACO)
101 pilotes belges
6 artistes : Clovis-Pierre Englebert - Benoît Deliège - Nicolas Cancelier - Yahn Janou - François Bruère.
Anecdotes pilotes.
Les "Autres Belges"
"Et eux, sont-ils Belges?"
Anecdotes des fans
Tableaux complets de tous les résultats des 101 pilotes belges de 1923 à 2017 
Data sheet
Author

James & Lucien Beckers
Publisher
Publishing Date

2018
Size

24,5 x 24,5 cm
ISBN

9782960191318
Illustration

Many BW and Colour Photos
Number of pages

216
Language

French and Deutsch
Condition

New
Binding

Hardbound
 Reviews (0) - Review moderation 
---
There are no reviews for this product yet.
Related products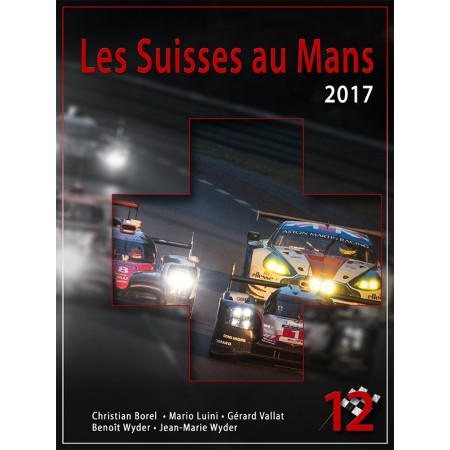 INFO - La décision est prise : c'est le DERNIER tome de cette série « Les Suisses au...