Out-of-Stock
Unavailable
Used
Hitler's Grand Prix in England Donington 1937 and 1938
L'auteur nous montre à quel point Hitler avait investi le sport automobile pour une domination sans partage des bolides allemands.
Ici, son analyse porte essentiellement sur les 2 derniers GP de Donington avant la guerre.
En 1937, au coeur de l'Angleterre les Mercedes et Auto Union raflèrent les 5 premières premières places, avec 5 pilotes allemands.
L'année suivante, en 1938, si les Mercedes et les auto union remportèrent aussi les 5 premières place, c'est l'Auto union de l'Italien Nuvolari qui s'imposa, et la Mercedes de l'Anglais Seaman qui finit 3è, et si le salut nazi, variante du salut romain, fut fait par l'Italien et l'Anglais, ce ne fut pas, c'est le moins qu'on puisse dire, dans la liesse et moins encore la frénésie.
Data sheet
Author

Christopher Hilton
Publisher
Publishing Date

1999
Size

16 x 24 cm
Illustration

Photos Nb
Number of pages

238
Language

English
Condition

Occasion
Binding

Hardbound with dust jacket
 Reviews (0) - Review moderation 
---
There are no reviews for this product yet.
Related products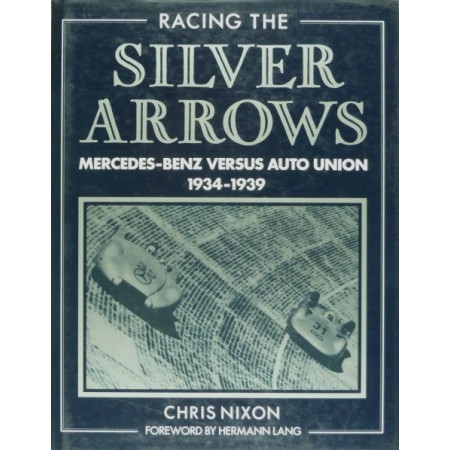 L'affrontement des voitures argentées,  Mercedes Benz  et  Auto Union , entre les...