Le Grand Siècle de Bibendum
Reference : LE02429
La Grand Siècle de Bibendum épouse bien entendu celui de la naissance et de l'essor de l'automobile, du développement, du tourisme.
Nul n'est censé ignorer Bibendum, le roi-soleil des personnages publicitaires, inscrit à jamais dans la mémoire de générations entières de consommateurs… Le véritable Panthéon des marques.
Le gros bonhomme est à ce point chéri des Français qu'un sondage classe Michelin à la première place de leurs marques préférées juste avant le Groupe Danone Microsoft ou encore Chanel. Un fabricant de pneumatiques côtoyant le fleuron de la Haute-Couture : cette rencontre pour le moins inattendue et déraisonnable donne la mesure de l'extravagance du personnage, un démiurge qui, via la publicité, réécrit avec humour l'histoire à son prestige exclusif. Traversant l'espace-temps, il est un jour Napoléon réduisant les Anglais, un autre jour pharaon dans la vallée du Nil ou encore Balthazar, le roi de la Bible, fils de Nabuchodonosor!
Vindicatif, impertinent et conquérant ; didactique, serviable et modeste : la double personnalité de Bibendum est constitutive de sa fonction d'emblème : une image suffisamment malléable pour accompagner les messages d'une firme, qui, au delà du pneumatique, a su investir tous les domaines du voyage.
Caméléon, Bibendum adopte ainsi tour à tour les coutumes publicitaires du XXème siècle, virulentes et polémistes à leurs débuts, aujourd'hui infiniment plus rationnelles et consensuelles. Une métamorphose qui trouve sa traduction exacte dans l'aspect physique du personnage lui-même : l'inquiétant titan de la route devenant peu à peu le compagnon débonnaire des automobilistes, au fil — centenaire — de ses apparitions innombrables, du Carnaval de Nice de la Belle Époque aux jeux de plage italiens des années 60, des foires exposition londoniennes du début du siècle aux compétitions automobiles contemporaines. 
Data sheet
Author

Olivier Darmon
Publisher

Hoëbeke
Publishing Date

1997
Size

23 x 31 cm
Illustration

Many BW and Colour Photos
Number of pages

144
Language

French
Condition

Second hand good condition
Binding

Hardbound with dust jacket
 Reviews (0) - Review moderation 
---
There are no reviews for this product yet.
Related products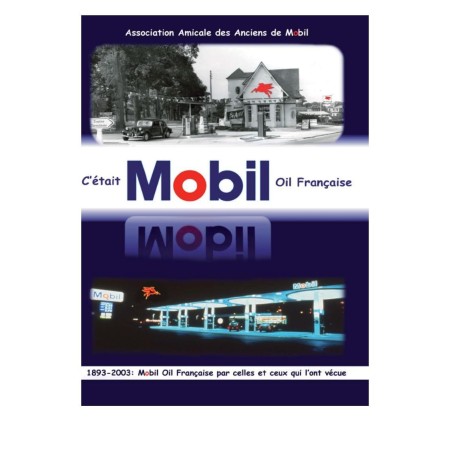 Un ouvrage réalisé par l'Association des retraités de la société MOBIL , retraçant...